Umex PPR 3 layer Pipes and Fittings
Umex PPR Layer Pipes and Fittings are made of complete virgin Raw Materials.
Umex PPR 3 layer Pipes are available from :
Sizes 20mm to 160mm
Pressure SDR 6/PN 20, SDR 7.4/PN 16, SDR 11/PN10
Light and Oxygen induce degradation reactants in plastic that may not only harm them visually but also exert a detrimental influence on mechanical and physical properties. Thus the life of plastic product reduces drastically, moreover, the environmental factors like humidity, temperature and pressure accelerates process.
Advantages of UV Stabilized Layer
UV Stabilizer contains various chemical properties, mechanisms.
Colours like Black, Green already have good resistance to UV rays, but addition of UV stabilizers further enhance the life and thermal stability of product.
UV stabilizer imparts long term durability and enhances life of the product.
Anti microbial PP-layer.
Anti-Microbial Layer prevents the growth of bacteria / microbes / algae etc. and preserves the pipe from them. This anti Microbial additive is very low migrating which makes it last for the entire life of product. This anti Microbial Layer is stable upto 250°C Temperature.
Advantages of Anti Microbial PP-Layer
Anti Microbial Layer is highly food grade.
Water storability increases tremendously i.e. even the water lying stagnant in the pipe. It remains hygienic without any bacterial formation for a long period of time.
Bad odor can be avoided.
List of UMEX PPR Fittings
Socket
Elbow
Tee
Wall Clamp
Bye Pass Band
End Cap
Tank Connections
Reducing Tees
Reducing Elbows
Reducing Sockets
Plugs
Female Th. Socket
Male Th. Socket
Female Th. Elbow
Male Th. Elbow
Female Th. Tee
Male Th. Tee
Union
Flange Adapter
Ball Valves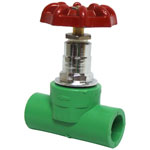 Gate Valve
Welding Tool
Welding Cutter
Welding Machine
Application Areas of Umex PPR 3 layer Pipes
Portable Water, Hot & Cold Water.
Chemical Irrigation.
Residential Apartments, Condominiums.
Public Housing Commercial.
Shopping Malls, Office Buildings, etc.
Efficient for Centralized Air Conditioned pipelines.
Hospitals, Software Technology Parks, Schools – Laboratories and Chemical.
Industrial factories dealing with chemicals, food processing.
Sewerage.
Hotels & Resorts.
Pipe Network for Swimming Pool Facilities.
Pipe Network in Agriculture & Horticulture.
Heating pipes for Residential Buildings.
Pipe Networks for industry i.e., Transportation o Aggressive fluids.
Advantages & Benefits of Umex PPR 3 Layer Pipes
Resistance to Abrasion & Corrosion
No corrosion by acid and alkaline fluids with pH values between 1 and 14.
High chemical resistance.
Excellent ESCR – Longer life.
High abrasion resistance => high flow velocities possible.
High Internal Pressure Resistance
Minimum 50 Years life time at 60 or 70 degree C and 10 bar maximum pressure.
No Negative Influence on Water Quality
Compliance with the international standards on the use of plastic materials for the transportation of drinking water.
Prevents UV Passage – Prevents growth of bacteria & algae.
Very Smooth Surface of Pipes & Fittings
No lime stone or other deposits
Head loss/pressure drop reduced to a minimum
Low heat conductivity of PP-R leads to 10-20% energy saving.
Resistance to Stray Currents
PP-R has a low electrical conductivity perforation phenomena caused by stray currents
are unknown.
100% homogeneous connections.
guaranteeing leak-tight.
long lasting system.
Fast and easy installation.
Watertight assemblies with other metal elements in the installation.
Considerable noise reduction in comparison to metal.
Easy transport and handling.
Lowest density as compared to conventional metal pipes.
Low heat conductivity reduces the condensation of water on the outer surface of cold
water pipes.
Fitness for Use in Seismic Areas
Flexibility and toughness of the PP-R pipes allow their use also in seismic areas.